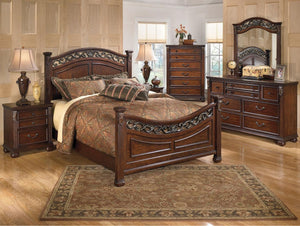 English Dovetail
A type of construction that provides great stability and maximizes storage without extra pieces of wood sticking out. The locking joints are tapered in shape to keep the drawer pieces from sliding apart.
Lined Drawer Interior
Ideal for jewelry, scarves and accessories...the material lining on the inside of this drawer will keep your valuables from scratching.
Decorative Hardware
Make every pull a classic with the stylish, ornamental hardware on this furniture piece.
Carved Detailing
The vivid carved detailing adds a classical touch that tells stories while adding a distinguished look and feel.
Molding Detail
No home`s design is complete without the finishing touch of seamlessly fitting molding detail.
Bun Feet
A slightly flatter version of the ball foot. This bun foot design endows your home with a new level of elegance.
Block Feet
Bring simplicity into your home with these rigid and durable furniture block feet. Keeping things sturdy at all times.