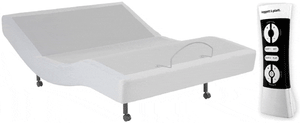 Info: Adjustable Bed Platform with Massage Function
Why settle for just a basic platform for your quality latex mattress when you can get a high performance adjustable base which not only serves as a flat platform, of course, but can also accommodate you in a variety of positions for comfortable reading, eating, TV watching or other activities, or to keep your feet elevated in the event of injuries or swelling ...AND incorporates a massage feature for your shoulders and legs?!
Product Notes:
The remote control has a built-in light, is easy to operate, and is designed to be large and stable enough to be put upright within reach on your nightstand, and both it and the ultra-quiet motor have advanced safety features for emergency power off and to guard against accidental activation.
Free shipping applies for first-floor deliveries in the Winnipeg area. Additional shipping charges may apply for those living elsewhere. Our shipping department will contact you with details before proceeding.
Specifications:
- 700 lb. total max lifting capacity
- Contemporary gray patterned fabric upholstery, fits in any décor
- Ultra-quiet high-performance motor
- Backlit, wireless remote, with a flat bottom so it can stand up on a table 
- Articulation for either the Head or Foot of the bed (or both)
- Dual massage with on-off button, works in two separate areas: one to loosen up shoulders, and one to soothe legs
- Two programmable custom position buttons
- A dedicated button to make it flat
- Press-and-hold safety flat feature
- 4" legs with casters
- Wallhugger engineering, lifts you up while simultaneously gliding you back, so whatever's in your headboard or on your nightstand remain within reach
- Emergency power-down feature

- a Headboard Bracket Accessory kit is also available (sold separately)

In addition to the above, the S-Cape Plus models can also be ordered, which include under bed lighting for room ambience, which can be activated via the remote, for between $200 and $400 extra (depending on size). Please contact store for details.