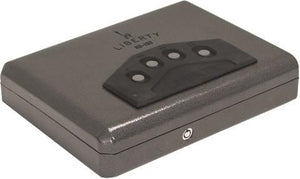 Liberty HD-100 Quick Vault Handgun & Pistol Safe
Check out Liberty's newest handgun model, the Liberty HD-100 Quick Vault. If you are looking for a portable safe, the HD-100 is the perfect blend of security and quick access all in a compact size. This handgun safe provides secure access with the ease of a simple electronic combo. Other features include a Piston-assisted door, lighted interior and a key backup in case something happens to the lock or your batteries die.
The Liberty HD-100 is the perfect size for drawers, nightstands, underneath vehicle seats, suitcases, closet shelves. It is designed to protect handguns, cell phones, wallets, passports, medications or other small valuables. The included security cable will help secure it in your home or vehicle and offers additional security protection. Not only is it CDOJ approved, but it is also TSA compatible for airline use as well.
Liberty stands behind their product and this is why they offer a 2-year replacement warranty on any defects on the HD-100.
If you have any questions regarding the Liberty HD-100 Quick Vault Handgun & Pistol Safe, please give us a call today at 800-207-2259!
Features:
Sturdy Steel Construction (16 gauge).
Quick and Secure Soft Touch Combo.
1000+ Combination Options.
Piston-assisted opening.
Lighted Interior.
Tamper Resistant Design.
Key Backup.
Security Cable Included.
9V Battery included.
Weight: 6.25 pounds.
2-year replacement warranty.
*This is a California-approved firearm safety device (CDOJ) that meets the requirements of Penal Code section 23655 and the regulations issued thereunder.