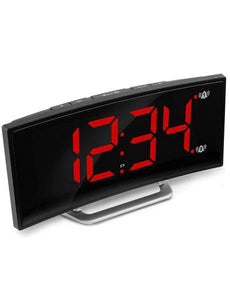 Marathon's LED Alarm Clock USB Charging Station has many features that make it an excellent addition to your nightstand or bedside table. The first thing that separates this clock from the rest is the easily accessible USB port located on the right side of the clock. This port is fast charging and perfect for your phone or tablet. Second, the illuminated digits are bright and easy to read in the dark. If you find them too bright when you are trying to fall asleep there is a dimmer switch to lower the intensity of the illumination. If it is still too bright, there is a button to turn the display off altogether, without interfering with your charging device. The alarm ON/OFF switch and SNOOZE button are conveniently located on the top so they are easily located in the dark.
Bright LED Display With 4.7 cm Large Digits: Variable display modes, choose between high (bright), low (dim) or off
USB Charging:

 

1 Fast charging USB port on the right side for convenience
Alarm With Snooze:

 

Easy to set alarm with snooze function (5 minute intervals)
Sleek Modern Design:

 

Curved shape creates optimal viewing angle and unique appearance
AC Adapter:

 

Universal AC Adapter. Battery Backup for clock. Includes batteries.
Item #10154