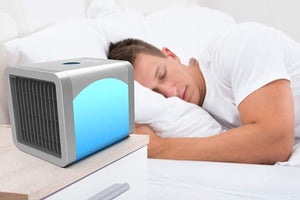 Free Worldwide Shipping!

Stay Cool ❄️ With Mini Cool™️- Your Mini AC That Keeps You Cool, Calm, and Collected All Summer Long ☀️
Tired of paying for air conditioning, or not having access to it when and where you need it? This air cooling device is simple but super effective and smart! 
It's so simple to set up and use - just pour water in the tank, plug it in and enjoy! Arctic Air is an evaporative air cooler that allows you to create your own personal climate. Once turned on, Arctic Air can cool a 200 sq. ft. area.
Incredible Portable Air Cooler takes hot and dry air and makes it cool and moist, without freon or any other toxic coolants. Safe and eco-friendly. Other AC systems use a lot of power to try and cool an entire house or building, which is very costly! This personal space air conditioner actually cools the air around you, where you need it most, while using the size and power consumption of a small fan! 
Its sleek compact design fits nicely on your desk, nightstand or coffee table - wherever you need it! Great for dens, reading nooks, work, dorm rooms, offices, home offices, campers, work spaces, benches, basements, garages and more! It's even convenient for travel! Includes AC adapter, and also works with any micro USB cable.
Features:
❄️ Create a personal cooling zone. 
❄️ Strong wind but quietly operation.
❄️ Choose from 3 speeds and adjust the airflow.
❄️ With 7 colors LED light, can be used as soothing night light.
❄️ Auto shutoff when out of water, low energy consumption.

❄️Superior Quality: The filter is made with advanced nano technology. Capture the liquid like a magnet and without toxic chemicals.
❄️Large Absorption: Replacement cartridges for mini usb portable air conditioner from Lovelyhome is built with rapid functions of water absorption and heat absorption.
❄️Easy Installation: Do it yourself in a few seconds. After 2 minutes the evaporative cartridges will be fully hydrated and will gradually cool the air around you.
❄️How It Works: The wind takes out the negative ion of cooling for you. When closing to skin, the somatosensory temperature can feel about 5  -8 .

Descriptions:
Water tank capacity: 750ml 
Winds speed: 3 modes (High / Medium / Low) 
Noise: less than 68dB (A)  
Humidifiering time: 6-8 hours
Specifications:
Material: plastic
Size:     165x165x170mm    
Color: white

Package included:
1 x Air Conditioner Humidifier
1 x USB Cable 
1 x User Manual
4 GREAT REASONS TO SHOP WITH US:
Unhappy With Your Product? We'll Take It Back!

We stand by our high-quality products and your satisfaction is 100% guaranteed.
-

GET YOURS TODAY AND
CLICK SHOP NOW!