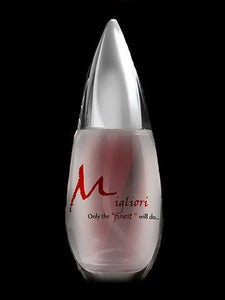 Migliori is a premium silicone-based lubricant with vitamins A, B6, D3, and E to leave your skin feeling silky smooth. Use Migliori to increase sexual pleasure, relieve vaginal dryness, ease chafing from exercise, and to moisturize your skin and tame fly-aways. A must have on every nightstand, Migliori comes in a beautiful glass teardrop-shaped bottle that complements the finest of tastes.

❤ ISN'T STICKY, LEAVES NO RESIDUE BEHIND WONT STAIN THE SHEETS - Migliori will amaze you with it's silky texture that leaves your skin feeling soft and luxurious.
❤ A LITTLE BIT GOES A LONG WAY - if you do spill some, don't worry! Our formula is non-staining, scent free, and has no taste, so it won't get in the way of romance.
❤ MULTIPLE MEDICAL USES FOR MIGLIORI - in addition to assisting with vaginal dryness and irritation, Migliori is great for perineum massage for expecting mothers.
❤ GREAT FOR HAIR AND SKIN - Migliori is great for taming flyaways and giving your hair a beautiful shine. Because of the extra vitamins, it also works wonders to soften and moisturize your skin.
❤ WORKS WELL TO PREVENT CHAFING - As many athletes know, the price of strenuous exercise may be chafing and blisters. By applying Migliori to tender areas before your workout, it can help prevent those irritations.