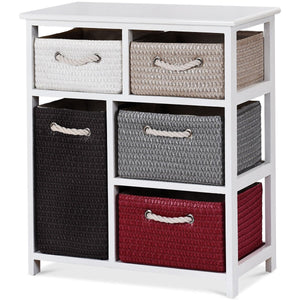 The bedside table is simple and highly functional with a spacious top and five woven drawers to take care of all your storage needs.
This easy-to-use chest of drawers can be used in multiple rooms throughout the home, which is ideal for workout gear, leggings, yoga pants, extra blankets, and can be used in places like closets, bedrooms, bathrooms, guest rooms, nurseries, playrooms, entryways and more. Five drawers design allows you to reduce clutter significantly. The lines of this end table are clean and uncluttered. This feature allows this table to be matched with any modern decor. The table top is spacious enough to keep a lamp, a phone, picture frames or a home decoration. Plus, the whole frame of this table is crafted of high-quality and long-lasting wood which are handled with fine white finish and woven baskets.
This side table is durable and sturdy. Don't hesitate to buy one!
Removable woven baskets
Pure wood construction, sturdy and stable
Suitable for limited spaces (bedroom, hallways or bathrooms)
A feeling of elegance and sophistication and complement any style of furniture as the neutral palette and stunning design
Versatile functional satisfy different needs
Featuring five baskets and ample storage space (two small baskets, two medium baskets and one lager basket)
No assembly required


Color of the frame: White
Color of the drawer:
Small: White & khaki
Medium: Grey & red
Large: Brown
Material: Wood & MDF
Dimension: 23.5" x 12" x 26.5" (L x W x H)
Dimension of baskets:
Small: 10" x 10" x 6" (L x W x H)
Medium: 12" x 10" x 6" (L x W x H)
Large: 8" x 10" x 14.5" (L x W x H)
Item weight: 10.5 lbs
Item capacity: 176 lbs
Package include
1 x 5 Baskets bedside table