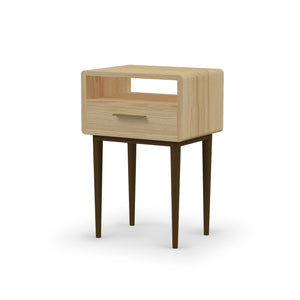 NOO.MA OUN NIGHTSTAND
From independent Polish furniture maker Noo.ma, the Oun nightstand provides a great amount of store in a delicate form. The drawer, shelf and top will allow you to store all your essentials at your fingertips. The combination of rounded edges, solid brass handles, and lightweight frame attracts attention. Pop your night time reads on the bottom shelf and a cool lamp on the top. 
Dimensions: L 40 cm x W 30 cm x H 60 cm.
Materials: top and legs Lacquered Solid Wood  Solid Brass handles.
Made to order with delivery 3-4 weeks.
About the brand:
Noo.ma is a Polish furniture maker. The brand cooperates with the best designers, using the highest quality materials and perfecting each object providing an extraordinary experience for the user. All furniture if made by hand and customised in various fabrics and finishes.