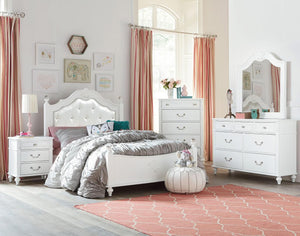 Decorative Hardware
Make every pull a classic with the stylish, ornamental hardware on this furniture piece.
Carved Detailing
The vivid carved detailing adds a classical touch that tells stories while adding a distinguished look and feel.
Turned Legs
Enjoy the almost serpentine-like coil design of these turned legs. The craftsmanship and detailing on them is unmatched!
Button Tufting
Get optimal uniform comfort with the peaks and valleys support of that comes with any button tufted furniture piece. The notable design aesthetics are sure to be a topic of conversation.
Nail Head Accents
This piece of furniture has all the design pizzazz you need with the metallic style of nail head accents.