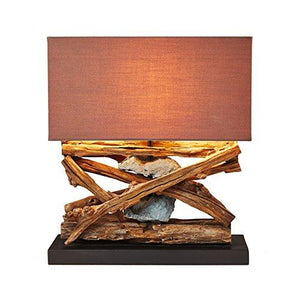 Brand: O'THENTIQUE
Color: Brown Cotton
Features:
THE LAMP THAT EXCEED YOUR EXPECTATION - Natural Reclaimed Distressed; Super sustainable Table lamp with excellent finishing. The lamp is attractive rustic natural finish, exceptional and well-made, really completes the look of the space. Moreover, the lamp is super easy to install and operate, fitted with high quality E26 socket and a Black cord with an on / off switch. EXPERIENCE THE MAGIC YOURSELF!
AMAZINGENUITY & CRAFTSMANSHIP: The Wooden base of the table lamp has been carefully handpicked by a professional Thai worker. Then, this experienced craftsman designed and built this wonderful table lamp. In other words, the Table Lamp is 100% handmade with exceptionally good workmanship so it is well made and sturdy. It won't fall apart, nor break. Press the 'ADD TO CART'' button and what you will receive is high quality and excellence.
PERFECT DÉCOR FOR ALL ROOMS: From midcentury modern theme to log cabin theme living room, rustic theme house, rustic theme master bedroom, bunk room, house basement, bedroom bedside nightstand, beach décor house, home office, family room, Reading room and more. The lamp is practical and suits any need
UNIQUE DESIGN AND AUTHENTIC MATERIALS: Put this classy and elegant table lamp in your house and have its soft light glowing during the night. It's unique yet simple natural looks makes this lamp suitable for all styles and decorations. In addition, the lamp is made of reclaimed solid wooden stump base, Beige Coarse Linen Fabric Round Shade. We are quite sure that you have never seen something similar with this perfect combination before. So get this Table Lamp and make your home décor stand out
A LAMP THAT HAS THE IDEAL SIZE: Why is the size of this Lamp ideal? It is ideal because it can be used not only as a table lamp but also desk lamp, console lamp or even as a nightstand. The dimensions of the map are 16 Inches high, 6 Inches wide and 14 Inches long. So whether you wish to place night lamp on a table or on the console table, there won't be any problems concerning its size.
Details: Description
We take select beautiful, sustainably sourced Driftwood branches and combine them with beautiful Thai stones to create a one of a kind table lamp. We fit these on a simple black base. The table lamp is complemented perfectly with the included brown cotton rectangular shade that matches the colour of the wood and fitted with a high quality E26 bulb socket with on / off switch and clear cord. 16 inch height.

Features
• Handmade Driftwood Branches and Stone Table Lamp creates Classic Touch for any Room
• Features Traditional Brown Cotton Rectangular Shade
• Fitted with a High Quality E26 socket with on / off switch, Clear cord
• Modern Look Accent Lamp Perfect as Home Decor, Side Table, Bedside for Living Room, Bedroom, Kids Room, Office, Study Room, Den, Library
• 6-Inch Wide by 14-Inch Long by 16-Inch High, Ready Made
EAN: 7099592483813