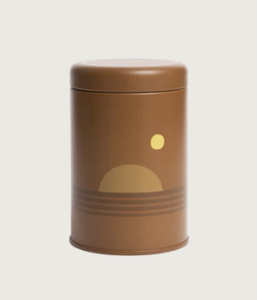 10 oz soy candle in tin jar
Introducing Sunset, an exclusive collection inspired by 1970s summers in California. The Sunset Line is like nothing we've ever done before, featuring custom-printed glass and tin vessels donned with 70s motifs, sun shapes, horizon lines, and earth tones inspired by the hazy scenes of a California summer.
SCENT DESCRIPTION
8pm. Taking the long way home, the buzz of streetlights, everything washed in shades of blue. Mysterious, dreamy, captivating. 
PRODUCT INFORMATION
Perfect for medium-sized rooms, nightstands, dressers, and living rooms.
Ingredients: 
100% natural soy wax, phtalate-free premium fragrance oil, cotton wick
Burn Time: 50-60 hours
Size: 4.375" in height, 3" in diameter