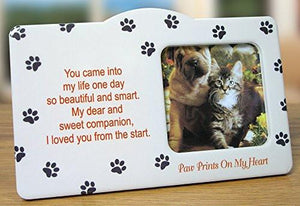 Beautiful ceramic pay print frame with paw prints on my heart poem and pet remembrance plaque showcasing your loving pet. This unique pet memorial frame is the perfect with a heartfelt message of comfort and loyalty. For anyone who has ever lost a pet this is a perfect gift. Easel Back. 9"W x 6"H. Holds a 4"W x 4"H Photo. Message Reads: "Paw Prints On My Heart, You came into my life one day so beautiful and smart. My dear and sweet companion, I loved you from the start."
PICTURE FRAME FOR THE LOSS OF A PET. Beautiful paw print picture frame for anyone who has lost their special fur baby. Inspiring paw print poem sits next to the picture of your faithful companion. Proudly display this picture frame on a deck, countertop, bookshelf, mantle, dresses, tv entertainment unit, kitchen island or nightstand. This will give you comfort knowing your special friend left paw prints on your heart.
PET SYMPATHY GIFT. Provide comfort to a friend or family member who is struggling with the loss of their best friend.
LOSS OF A DOG FRAME. LOSS OF A CAT FRAME. This cream ceramic frame with black PAW PRINTS and red words comes in a white box. Makes it easy to wrap or put in a gift bag.
HONOR THE LOSS OF A FURRY FRIEND. This frame is the perfect keepsake for anyone who loves their pet. With a loving memorial saying and a nice size are for a photograph of you and your faithful friend, this item will be cherished in your family for years.
SIZE: 9"W x 6"H, Ceramic. Square shaped picture opening holds a 4"W x 4"H photo of your furry friend.