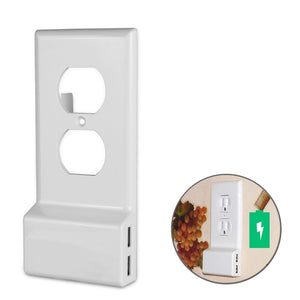 You can finally use all of the outlets in your house. Don't let devices and their standard plugs eat up all of your outlets. You can have a lamp, alarm clock and your phone all on one nightstand and charge all of them via this wall plate with USB charger. Or have your tablet in the kitchen without sacrificing an outlet.
This Power Outlet Cover With USB Ports has an output power rating of 5V/3A that you can use to fast charge your devices. It is smart enough to detect the number of connected devices. If only one device is connected, it uses all 3A for an ultra-fast charging experience. If two devices are connected, it divides the current equally to charge both devices. It's perfect for charging all your devices. It also protects from overcharging and power surges.
Very easy to install.
Smart charging capability.
Offers protection from power surges.
Made of premium quality materials.
Charge your devices without charger and won't occupy your outlets.
Specification:
Weight:110 g.
Size:7.2 x 3.7 x 1.8 inches.
Style:Duplex.
Note:
Please pair the Duplex or Decor outlet type before order. 
The Plate must be installed with USB port on the same side as the ground of the outlet.