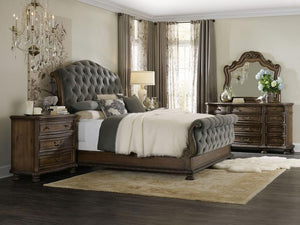 Cedar-Lined
Protect your clothing, fabric or blankets with the cedar-lining inside the storage compartment. Cedar helps removes moisture in the air that may cause mildew and ruin garments. The aroma emitted by cedar lining also helps discourage bugs from crawling into your storage compartments.
Fabric Upholstery
Soft and cozy! Fabric upholstery is an economical, environmentally friendly way to show off your eye for style and color. It allows for a multitude of patterns or color options.
Beveled Edge
The edges have been cut at an angle to create a framed look and add dimension. This furniture piece is sure to be the focal point of the room.
Decorative Hardware
Make every pull a classic with the stylish, ornamental hardware on this furniture piece.
Carved Detailing
The vivid carved detailing adds a classical touch that tells stories while adding a distinguished look and feel.
Molding Detail
No home`s design is complete without the finishing touch of seamlessly fitting molding detail.
Wood Veneer
Topped with thin layers of woods glued to together, which make it less prone to warping, splitting, and cracking.
Bun Feet
A slightly flatter version of the ball foot. This bun foot design endows your home with a new level of elegance.