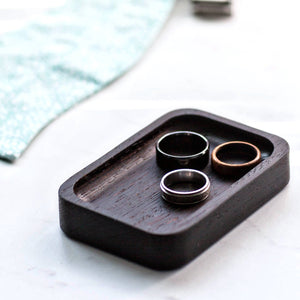 Free shipping within Canada and US only.
The wenge ring dish was designed to keep your favourite jewellery all in one place. It's a beautiful item to keep on your desk, your nightstand, or even in the bathroom.
Handcrafted from solid wenge. The inside has beautiful rounded corners that are sanded perfectly smooth.
Dimensions:
4" x 2.5" x 0.625"
*Please note the grain & colour of the tray will vary slightly. All of our products are hand made, they are not mass produced. It's what makes each tray unique.
**The images used on the listing are a representation of the item and do not feature the exact item that will ship.