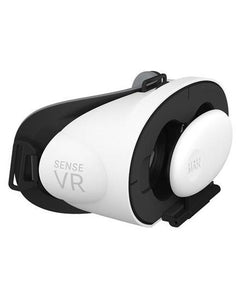 We met the team from SenseMax at the XBIZ show in Miami and immediately recognized the sleek clean design. They incorporate a subtle look in their products similar to what you find in other high end brands as  and . The outer shell is not stiff but instead is flexible to allow for maximum control. Their line is largely Nightstand-Safe!
Boundless views in our VR world. Sync with and . Gain access to interactive synced content through the .
Features:
Lightweight design and comfort straps allow you to focus on the action at hand.
Size: 195 x 118 x 102 mm. FOV 96 degrees.
Compatible screen size- 4.7-6.0 - Best screen size - 5.1-5.7
Long-sight range 0-200. Short sight range 0-800.
-1 year warranty
Use with .