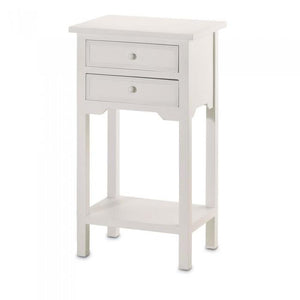 FREE SHIPPING 
PRODUCT DESCRIPTION:
Sometimes the simple things are best, and this 2-drawer, single-shelf wooden table combines a sleek simplicity with versatile functionality. Use it as a side table, a nightstand, in the office, the kitchen - you name it, it works!

/!\ WARNING: For California consumers. This product can expose you to chemicals including Lead, which is known to the State of California to cause cancer, birth defects or other reproductive harm. More information can be found on;
Item

Item

+ PACKAGING
CASE
Quantity
Each
1 EA
1
Weight
14.3 pounds
13.8 pounds
12.9 pounds
Dimensions
15.8" x 11.6" x 27.2"
28.8" x 18.2" x 14.1"
28.9" x 18" x 14"