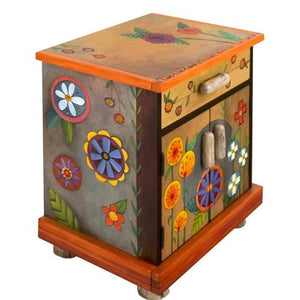 One-of-a-kind, hand painted night table by Sticks. This table has one drawer and a cabinet with two doors.
16"D x 22"W x 24"H
All  furniture, sculpture, and accessories are hand painted by very talented artists and are "one-of-a-kind." Special orders are welcomed. All paints and finishes are water based and non-toxic. Surfaces are durable for everyday us.
This item is made to order. Please allow for 3-4 weeks delivery.