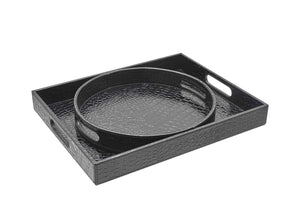 Brand: Decor Trends
Color: 2 Black
Features:
Sizes: Rectangular 18''*14''*2.2'',Round Diameter: 13.5'',2'' Height. Border Thickness: 7 mm. The ottoman serving tray sets are perfect for using in all occasions.
Material & Quality: The tray set with oval comfortable handles ,Sturdy structure, Coated by glossy alligator croc PU leather,Which Is shiny and stunning. core inside is MDF
Occasions: Rectangle decorative serving tray and round tabletop tray set for livingroom,dinning room,kitchen counter,bathroom,ottoman,dinning Table,coffee Table,Nightstand And Vanity. Great for serving Drinks,Beverages,food,breakfast,coffee or perfumes and colognes and favorite objects,such as candles,books and letters
Style: The set 2 stylish trays are mordern,exquisite,shiny,stunning .They are perfect trays for storage and decorating , Also as an great gift for Wedding ,Birthday, Mother'day,Thanksgiving Day and Christmas.We believe you will definitely find an great place for the trays in your house.
Care: Stains of drinks ,wines and dust are easy to be clean. Wipe with damp cloth.
Publisher: Decor Trends
Details: Stunning Glossy Alligator Croc Decorative Ottoman Coffee Table Sofa Counter Centerpiece Storage Serving Tray With Handles By Decor Trends For All Occasions

Technical Data:
Material: High Quality Glossy PU,MDF
Size: Rectangle 18''*14''*2.2'' Round 13.5''*13.5*2''
Border Thickness: 7mm
Weight: Set 2 weight:3.85 lbs , Rectangle weight: 2.51lbs Round weight: 1.32lbs
Package Included: 1pc round and 1pc rectangle tray
Color: Black,Gold,Silver

Features: The rectangle serving tray and decorative round tray set are sturdy,classic,functional,an excellent choice for the whole family .

Functions & Muti-usage:
- The storage serving tray great for placking on tabletop serving drinks.foods and snacks. Also good for carrying remotes ,mail envelopes and documents if you need .
- Display your favorite objects such as perfumes,colognes,jewelries, photo frames,candles
- As a decorative piece on ottoman or armchairs for organization.
- Another idea is putting on vanity for wash and makeup organization.
- No matter the rectangle tray or round one could be as a perfect centerpiece on island to present food or vas with flowers and scented candles.

The serving tray set could be used in different rooms. We believe that you will find the most appropriate place in your home for the tray set.
Welcome to leave a nice feedback and review after purchasing the tray and satisfied with it. It will be great appreciated if you have a new idea about ho to use the tray .
Pls share with us your reviews and photos of trays in your warm house.

As all above, the decorative tray is so functional and stunning , It is absolutely as a great gift to your families ,friends .
UPC: 729375017221
EAN: 729375017221
Package Dimensions: 18.2 x 14.7 x 2.8 inches