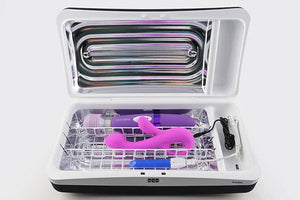 A Cleaner Way to Get All Charged Up!
Now it's time to come clean: UVee™ was made exclusively for adult pleasure products. Available in two sizes, UVee™ is made of special sturdy antimicrobial plastic and uses non-toxic, UVC which kills up to 99% of harmful bacteria that may be found on adult toys. UVee™ is also a charger and toy storage unit, keeping your toys clean and charged and safely stored after use.Let's talk dirty. Dirty being your sex toys after a good session. Dirty being your vibrators squeezed into your top drawer. Dirty being your dildo shared with a partner. Dirty from who knows what.
Improper cleaning can become a breeding ground for bacteria. Other products and manufacturers recommended cleaning solutions may clean the toys but do not sanitize them.
With two sizes available, there's a UVee™ for everyone. The smaller, compact UVee™, , cleans, charges and stores smaller, mini vibrators of the most popular models. The larger, table top size, , sanitizes and can charge multiple toys at the same time such as popular Rabbit vibes and many others. The Home Play also includes a locking system for safe keeping. With multiple charging systems inside you should never have a problem with a toy running out of juice.
The only scientifically proven sanitizing and charging 

system for adult toys.

Kills 99.9% of all harmful bacteria and yeast that may 

cause infections.

Generously sized to accommodate large toys, 

including the Magic Wand.

Automatic start/stop.

Customizable interior dividers.

Complete sanitizing, charging and storage system.

3 USB charging outlets.

Discreet design easily fits into most nightstands.

Lock for privacy.

Dimesions: 16.5" X 9.5" X 6"